Web Application Development
Web applications are extremely popular for online consumers today and as a business owner you may be considering how you can create your own internet application to sell to the millions of consumers that now turn to the internet for their shopping needs.
The presence of knowledgeable veterans in our team has helped us in presenting a variety of web applications to clients for the past many years. We come with a rich experience of developing the best web applications and coupling them with superior efficiency.
We at Computer Kingdom understand that when it comes to custom application development, enterprises require applicability, flexibility and more importantly reliability, in the early as well as the later development stages to ensure a productive application life. From web application development to automate as small a process such as tracking employee's attendance to tracking IT projects for a large enterprise having more than 5000 employees, we have the right expertise to successfully deploy bespoke applications for your business.
Computer Kingdom develops web applications across multiple business fields and provides ready business solution by:
Strategic planning
Domain expertise with latest technology
Reducing deployment time
Streamline process
Operational efficiency
Minimizing working cost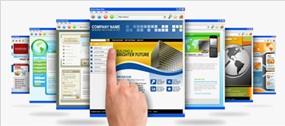 Some of our development platforms are LAMP, .NET, JAVA, Database Servers like MySQL and MS-SQL. We understand the latest technologies and work in tandem with client requirements. Our web applications are high on attractive user interfaces, rich in functionalities and effective in management systems.
We pride ourselves on our communication, project management, experience and final product delivery. We will guide you through each and every step of the development process to ensure you understand what is being done, what forms of technology are being used to create it and how it will be implemented into your website for instant download purposes.