Unified Communications with IP-PBX
Telephony was the traditional way that lead communications the last century, that's why many Companies and users focus their requirements on their necessities to establish telephony communications on their organizations, and confuse unified communications "distros" with a telephone exchange system. Elastix, not only provides telephony, it integrates other communication alternatives to make your organization environment more productive and efficient.
Unified Communictions Suite include the following communication media: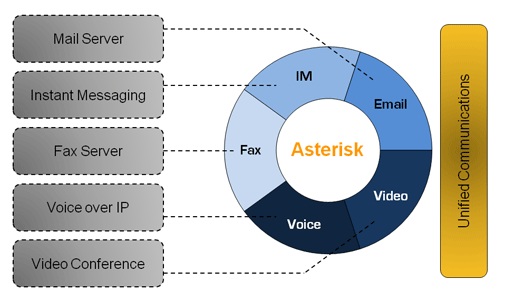 Features
There are new ways of communication every day and the addition of features and functionality must be constant. Unified Communication Suite is capable of establishing an efficient environment on your organization with the addition of many features that allows to integrate other locations of your company to centralize your business and take it global. A user in your corporation located in South America shares the same functionalities of another located in Asia besides having direct internal communication.
Some of the basic Features of Unified Communications Suite include:
Voicemail
Support for softphones
Virtual conference rooms
Least Cost Routing
PBX Interconnection
CRM
Fax-to-email
Web Interface Configuration
Call recording
Extension Roaming
Caller ID
Advance Reports